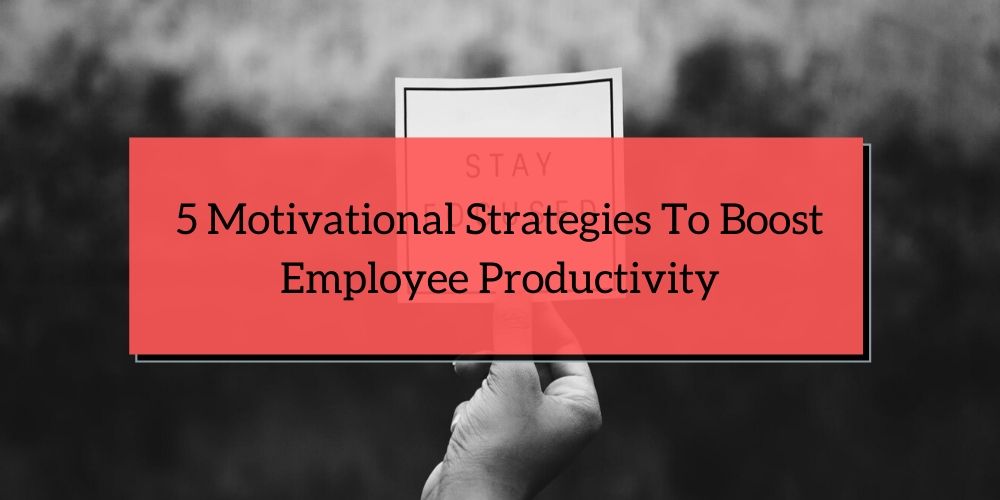 Employers who keep their employees at the forefront enjoy better results and mostly an early business success. Motivating the employees helps to enhance their productivity, which in turn leads to desired results.
It is well quoted that Keeping your aim and your workforce motivation high is the key to success.
Workforce motivation is something that has always been at the backseat since long. Not only in Small but even bigger companies give little importance to employee motivation. Hence, achieve mediocre results throughout their success journey. On the other hand, if you ask an accomplished organization, they would surely reveal that their workforce is the secret of their success.
An employee plays a crucial role in how an organization performs? On its success radar, the role of an employee speaks. A successful and responsible employer knows that it is all because of the hard work and efforts of employees that turns an idea into the desired reality.  Herb Kelleher quoted "Your employees come first. And if you treat your employees right, guess what? Your customers come back, and that makes your shareholders happy. Start with employees and the rest follows from that."  While adopting various business strategies it is crucial for any business success to understand that employee motivation is what brings the difference. In a nutshell, infuse motivation in them and see they can do wonders for your business.
Employee Motivation ∝   Productivity
So, be among those smart business owners and adopt these simple strategies to instil motivation in your employees.
Give Medium to their Voice
Every employee is an individual with myriads of ideas and opinions. Also, hiring an individual means they are different from the crowd and have their own skills and creativity. Then why not to give them opportunities speak up? To be very clear on this point, an easiest way to motivate your employees is by giving them various opportunities to exhibit their skills and opinions at the workplace. Organize regular meetings (not to pass the time), group discussions, office poll, etc. and give them the freedom to share their thoughts. Accepting or agreeing to all their suggestions and thoughts isn't always necessary but at least their thoughts will come out which you may feel helpful to work for the hurdles they may face or what mindset they may be having. However, execute those that are genuinely unique and significant to your business.
Be Transparent
Miscommunication is a barrier to employee productivity. Fuzzy instructions and vague expectations often hamper the performance of employees. Often this misleads an employee causing delayed work completion or practicing confused approach. Not only this degrades their productivity but constant failures harm their mental being. Hence, as an employer it is your responsibility to opt the clear communication by all means. Train your managers and senior employees to engage in open communication with their team. Proper documentation relevant to projects, presentations and meetings could be a great aid here. You could also indulge in personal meetings to clarify your requirements better. Be as clear and specific with your employees.
Make them feel 'Valued'
Now here's a catch. Just by saying "We value our employees" does not satisfy the purpose. You are actually practicing it in a different way. Don't just say, implement it. You need to make them feel valued. How will you do it then? Very small efforts can help in this. While allowing them to express themselves (as mentioned in point 1) is one way to show they are valued, there are several other techniques too. Appreciation and rewards play a significant role when it comes to motivating your employees. Praising their efforts and achievements is a proven way to show they are valued. Remember, rectify privately praise publicly. Adopt proper HR policies. For the reference of such HR policy implementation take the reference of such policies from the best companies who have best HR policies for their employees.
Equip them with Right Tools
Improved productivity means better efficiency which further means accomplishing more number of tasks in lesser time and within available resources. Hence, it is important to offer all the necessary tools and resources to your employees to help them complete their tasks efficiently. Choosing the right tools can make their task simpler, quicker and more fruitful. Best new improved and technical support makes difference. Like you can provide them with tools like time tracking apps, collaboration tools, communication apps that can help them enhance their productivity. Also, focus on their learning. Introducing latest technologies and tools also needs refining their knowledge and giving them proper training to use those tools.
Create a Joyful Work Environment
Workspace is like a second home for every employee. Hence, it is important that they enjoy staying there. As an employer, it is your responsibility to make your office environment happy and joyful. Don't be too harsh on your employees. From offering flexible timings to gaming area, you can do a lot to encourage them. Also, small breaks can enhance your employees' productivity significantly. Hence give them the freedom and don't force them to stick to their desks for 10 long hours. Let them recharge their senses regularly. Offer them a workspace they love to be a part and work for. Try to create a family-like pleasant atmosphere.
The Takeaway
Remember the words by Richard Branson "Train people well enough so they can leave. Treat them well enough so they don't want to." Never underestimate the power of a motivated employee. Working in a company is definitely important for their survival but feeling motivated is crucial for their mental and emotional well being as well. Adopt these strategies and boost your employee motivation and enjoy outcomes in an unbelievable way.
Latest posts by Dr. Mrunal Naik
(see all)