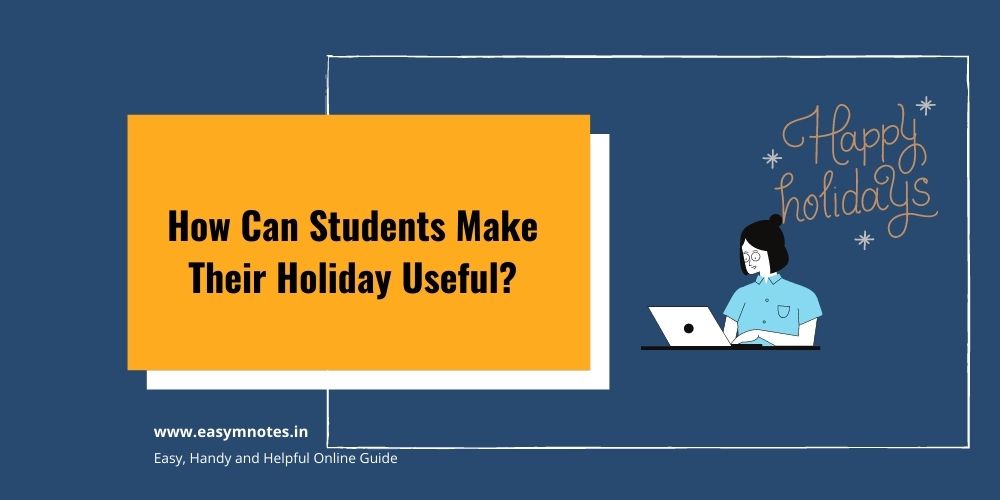 With the end of the semester and the beginning of the holidays, there begins a time span in which students get the opportunity to enjoy themselves with friends and family, as well as prepare for the next course without haste and make some improvements.
Once you grow up, you will realize that holidays are the best time to hone up your skills. You can spend your time productively by learning new things. It is significant to understand that holidays are not just about "Netflix and Chill."
During the semester, you obviously aim at scoring well. But on holidays, you deserve to get some relaxation. But for students, especially those who are pursuing an MBA, smart utilization of time is highly essential. You have to balance well between your chilling time and study time. Once you crack the effective trick of utilizing your time wisely and get some free, happy time as well, you, my friend, are sorted for life.
Below are the few tips which students can use to make a qualitative and smart use of the holidays:
Reflect on the results of the course you just finished
It is important to analyze how the academic year has gone and which are the subjects in which the student has made greater progress or in which he needs to make some extra effort to score better. In this way, you will have a complete strategy for your entire vacation. Meanwhile, you should always take into account the recommendations given by the premium educational centres.
Apply for Scholarships and Remote Internships
During the vacations, students can apply for Scholarships and Remote Internships as they have sufficient time to prepare for these exams.  There are many online sites available, which organizes online tests and offer scholarships if students clear the tests with flying colors. You can easily signup on these websites, get in-depth knowledge, and apply for Scholarships.
Do not overload summertime with activities
Although the student must have a task planning that reinforces the contents worked on during the course or with which he learns new concepts, it must be borne in mind that he is on vacation, which means he needs to enjoy his free time. You can even encourage boredom, an opportunity to jump-start your imagination and creativity.
Set a schedule
During the semester, students are habitual in organizing their days around certain schedules. During holidays too, it is necessary to establish a series of times to carry out multiple activities. Incorporate frequent breaks in your timetable so that the holidays do not feel mundane.
Update Your Profile
After a college degree, when students are going to apply for a job, their profile is one of the first things that most companies notice. The truth is that a vacation is the perfect time to review your profile so that at the time of sending your resume, you will have an updated profile. To make a good profile, one can take the help of their seniors or can read an online guide that tells you how to make a good profile.
Short and varied activities
It is ideal to combine physical and mental activity in short periods of time. Thus, while sports-related outdoor exercises are necessary, it is equally significant to inculcate habits like reading books. It is a good idea to use strategy or mathematical logic with games or to establish a time to write your own texts following the guidelines of creative writing.
Also Read: Holiday Preparation Tips For A Working Employee
Family leisure
Throughout the academic year, students surround themselves with friends and classmates with whom they spend most of the day. So this time is perfect for them to carry out activities with their family environment: sports, cultural routes or a film session, for example. It can be planned once a week and thus incorporated with your own educational exercises.
Spending time with your family means gathering moments and memories which you will cherish for the rest of your lives. In order to be a successful person in life, it is essential to have that humane compassion within you.
Bonding with your family is one of the best things that you need to do during your holidays. No amount of video calls can replace the times that you get to spend in close proximity to your own family.
Learn a new language:
There is no good or bad time to learn a new language. Learning a new language will help you in your job interviews, learning a new culture, travelling, and sometimes in the most unexpected places. Being multilingual will also help you to be more confident in life.
Exercise
Students who have just got rid of their exams experience a decrease in physical activities because of hours of study. These holidays are the best times which you can utilize by playing sports, doing exercise, or improve your stamina and physical strength. Students can also join sports centers where they can take coaching for sports as per their interest.
Take an online course:
There are a lot of courses which can be done online these days. Covid 19 has given rise to the trend of online learning. Depending on your interests and requirements, holidays are a perfect excuse to learn a new skill you've always wanted to do in life. It's so much better than wasting your time on social media and will be added to your CV later.
Try to choose that course in which you have an interest. There are also many sites which offer a free course to the students. So try to find out these types of courses which you can join for a short duration.
Painting the fence around the house, babysitting, or volunteering at a soup kitchen
Once you are home with your family, you should share the responsibility by helping to set the table, care for a pet, clean a closet, wash the car, or paint the fence. You can also help in the decoration of the outdoor and find ways to utilize space in your home. Holiday outdoor work and society services help you to learn to be on time, follow directions and serve others.
Virtually Connect with Friends
Surely you have already finished your online classes or are about to do so. What will you do during these holidays if it is still necessary to stay home? You can spend time with your friend by doing an online meeting.
Revamp your resume, cover letter, and/or essays
Making a cover letter needs skills. It is not an easy task, and not everyone can do it. If you want to have a good cover letter for your resume, then use your holiday free time in learning how to make a cover letter and resume.
Plan for upcoming semester schedule
Students can start studying for their next semester. Advance preparation will help smoothen things up for you during the next semester. You will be in a better position than your fellow classmates, and thus your chance of scoring well and beating your competitors increases manifolds.
Hope on your next vacation; these tips come in handy to you. Once you start following them, you will realize how simple and convenient your life gets.
Latest posts by Rajesh Prasad
(see all)