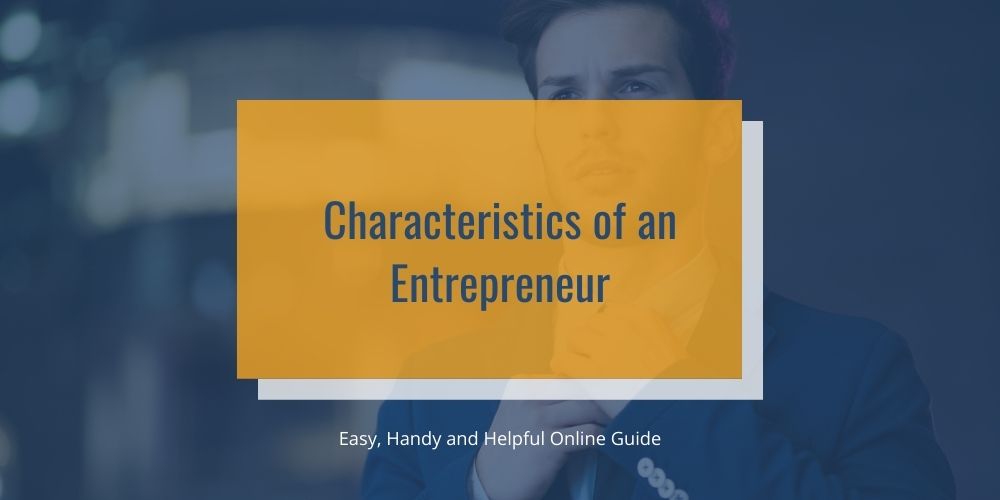 The job of an entrepreneur is not as easy as it seems. We all think that being an entrepreneur means a job like a boss. But in reality, it is the most difficult job as it requires ample skill-set to be an entrepreneur. An entrepreneur should be the one who is loaded with confidence because confidence is very necessary to deal with subordinates.
While some qualities are already present, others can be learned or even developed after successfully practicing various skills and acquiring more through practice. But before deciding whether you want to be an entrepreneur, you really need to know the basic characteristics which are needed to be a successful entrepreneur so that you can take your firm to a growth stage that will ultimately benefit you and your company.
The characteristics of an entrepreneur are the qualities that should definitely be present in the person who is willing to be an entrepreneur.
Now let us discuss some of the characteristics of an entrepreneur in detail:
An entrepreneur should be creative
Idea generation is the key factor that should be present in an entrepreneur. Whether it is an innovative idea for the growth of the firm or a solution to the problems of the ideas, all require good and creative ideas.
Well, idea generation should be in such a way that it looks completely unique and worth listening to. It should be reasonable and should also be able to generate more opportunities with the help of those ideas.
If you feel that you as an entrepreneur need to improve yourself with the idea generation technique, you should then analyze what makes you generate more ideas quickly and in a creative way; whether it is through listening to music or meeting different people and listening to their point of view, reading or some other activity, you are indulged in.
An entrepreneur should be passionate
The next characteristic or quality which should be there in an entrepreneur is that he or she must be passionate about what he does. You must have heard about a common English saying, "Passion is what drives Entrepreneurs'. Yes, this is so rightly said.
You must do your work passionately and with full dedication. Invest time in learning if you don't really know how a particular task has to be performed, but at the end of the day, 'Perfection' is the demand from the entrepreneurs.
Fully Motivated
Entrepreneurs should be present at work with full motivation and zeal to perform and submit their work on time. You must possess an appealing and energetic personality towards your subordinates so that they may learn from you. You should portray your personality as the one who is always ready to perform the assigned task with full perfection and also with full motivation and dedication.
Your ultimate goal must be to take your firm to the next level. You should keep a motivating attitude towards your company and treat it with a vision of making it grow and taking it to the next level in another five years.
You must always keep a positive attitude towards your work. Flush out the negative thoughts, if any, because they would do nothing but bring up daily obstacles and will hamper your work.
Also Read: Classification of Entrepreneurs
Self Confidence
Self Confidence is another key factor that entrepreneurs must have within themselves. They must possess an attitude that they have the ability to create something unique from what is already existing. Self-confidence is necessary because it brings out the real you and make you feel better, and also, it becomes easier for you to overcome challenges and take risks and be persistent with your work.
Moreover, if you want to boost up your self-confidence, then you must start visualizing things. This technique really helps. You must start visualizing yourself as a person and then visualize your business at this stage. You must be proud of yourself.
Risk-Taking personality
This is the most important and essential characteristic of an entrepreneur. Entrepreneurs are ready to take risks after successful and mindful planning. If you as an entrepreneur want to get your risk-taking abilities increased, then you must start thinking about the possible failures that might occur.
Just remember one thing that good outcomes come only after taking the required risks. So just keep your goal in your mind and commit the risk.
In order to make your business succeed, taking risks becomes necessary sometimes.
Once you get used to it, you will feel more comfortable in it.
Conclusion
In the above content, you have learned what all qualities must be there in an entrepreneur. Those qualities actually define what the real meaning of an entrepreneur is. An entrepreneur must always know how to make good decisions in order to take their business in the right direction. Once you get used to it, you will definitely climb the ladder of success.