MBA, the last two years of your student life, just before you step into the corporate world. Very crucial and critical. Many of the students pursue an MBA to get a job in a "good" company at a "good" package. A few enroll in MBA to become entrepreneurs and some others would like to join their family business.
Whatever their aspirations, what these students lack is their preparation – they do not quip themselves during their MBA journey with the required skills, so that they can join that "good" company.
So what should these young aspiring managers of tomorrow do, in order to get into their dream company?
 1. Academics: Maintain consistent academic scores throughout the MBA and gain sound conceptual knowledge. Classroom learning is as important as the practical exposure.
 2. Extra-curricular and co-curricular activities: All B-Schools provide students a plethora of opportunities by way of events and competitions. Students should either be involved as volunteers to organize these events, whereby honing their team and collaborative skills or participate in these activities. This will enhance their communication skills and improve their confidence. They get certificates for the same and it is tangible evidence of their recent-most accomplishments. At IILM, we have made it a norm that all events would be student-driven, whereby they only conceptualize, plan and execute.
Also Read: Extracurricular Activities – The Real Learning for the Students
 3. Online Courses and Certifications: MOOCs are the in thing today. All students must search and enroll in contemporary courses. EdX, Coursera, Udemy, SWAYAM etc have excellent courses which students can pursue. This adds to the CV, widens knowledge and demonstrates an eagerness to learn.
 4. Updating oneself: Students must keep themselves updated with the latest happenings not only in the business world but also in politics, sports, national and international news. HBR, Deloitte, Forbes and Mc Kinsey publish very pertinent articles and reports, and it always helps to be well read. Through this, the students can surely improve their performance in group discussions and interviews for placements.
 5. Live Projects: Students must also search for an opportunity to do live projects. These are real-time projects with pre-defined deadlines. They give students a hands-on experience to gain real work expertise. IILM students have received several live project opportunities in the areas of BD, Marketing Research, E-commerce, HR and Marketing from a diverse spectrum of organizations.
 6. Networking: Students must network extensively, both inside and outside their campus. Networking inside the campus implies making acquaintance with all the seniors and juniors. A few years later they would also be working in reputed organizations at the middle level, and you never know who can be of what kind of help. External networking is intentional and has to be well planned. Primarily done through LinkedIn and while meeting professionals in conferences, industry forums, seminars, meets, etc. Students should reach out and connect with corporate professionals, with the objective of taking guidance and mentoring.
7. Research: There is so much to do and so little time. Students must do extensive research on the companies they are seeking to join. The background, leadership, products, services, clients, USPs, role offered by the company – whatever information is available, they should have researched thoroughly on the same. Recruiters are looking for candidates who have read about the company properly.
8. Specializations: Students should select their electives on the basis of their interest and aptitude, not on the companies coming on campus. They will not be able to sustain themselves if they take up finance, while they have an interest in HR etc.
 Keep learning, keep growing – that is the mantra the students of MBA should adopt.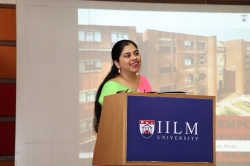 Latest posts by Dr. Sona Vikas
(see all)